Enjoy a dozen locations with local wines and artisan chocolates to benefit Habitat for Humanity.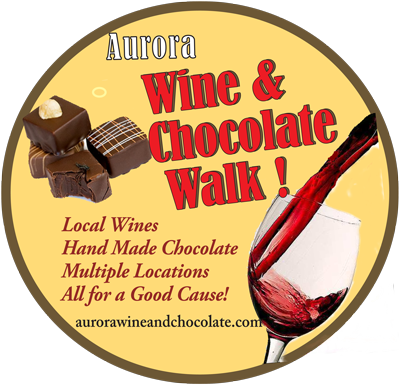 Patrons will be able to wander the historic area and sample artisan wines paired with locally made chocolates. Locally grown & made sparkling wines, barrel select Pinot Noir and "Bank Robber Red" along with other wines are paired with hand made chocolates from the surrounding villages. A wine and chocolate passport purchased for two allows you to sample in multiple locations and enjoy the seasonal atmosphere while the proceeds benefit
Habitat for Humanity
. The event has raised over $5000 over the past few years.

Included in your wine and chocolate passport for two are: two wine glasses, wine tastings at 6 locations, chocolate tasting at 6 locations and $18 dollars in Aurora Gift Certificates… good at any of the local shops.
Aurora is a destination for both local history, vintage shopping & antiques.
Founded as a Communal Community in the 1850s it was one of the longest running "Utopian Societies" in America. The town has maintained many of the original structures and became the first 'National Historic District' in Oregon. Located just 25 minutes from downtown Portland, Aurora was named one of the Top 10 Antiquing Towns in America by MS-NBC and one of the Top 6 Antique Destinations by the Travel Channel. The town has many attractions including the Aurora Colony Museum, antique shops & places to eat. The event creates a weekend that is as fun and delicious as the many local products made in the area.

In the past few years there has been a resurgence of creative local businesses to augment the antique stores. The turn of the century bank building, originally constructed for the 1905 Portland Worlds Fair, has been converted into the Pheasant Run Winery Tasting Room. The town mill has been revived to become one of the west's top destinations of old building parts- Aurora Mills Architectural Salvage. In the heart of hazelnut country the nut processing plant has been remodeled and reopened as Pacific Hazelnuts & Chocolates, while The White Rabbit Bakery featuring gluten-free goodies has become a foodie favorite.
The Aurora Wine and Chocolate Walk is Saturday, Dec 2nd & Sunday, Dec 3rd from 11-5pm on both days.
Advance tickets can be purchased for $29 (for two people) until November 12th when the ticket price is $39 (for two). On the day of the event, ticket prices are $49 (for two).
Participating Sweets & Chocolate
Aurora Participating Shops